National Health Care Supply Chain Week
Thank you for sharing your activities, stories, and appreciation with us.
Next year's Health Care Supply Chain Week is October 6 to 12.
Save the date for the AHRMM24 Conference! »
National Health Care Supply Chain Week:
The Power of Partnerships
October 1-7, 2023 | #SCWeek
National Health Care Supply Chain Week (SC Week) recognizes the importance of the health care supply chain professionals and honors them for their exceptional contributions to patient care and the innovative ways in which they support their health care organizations and communities.
Celebrate with Themed Gifts
SC Week gifts are an easy way to show your appreciation for your team and raise awareness of the supply chain professionals at your facility.
When you purchase SC Week products from AHRMM's official supplier, you generate royalties so AHRMM can continue to offer many benefits for members.
Download and share with your team to highlight terms that represent the health care supply chain.
Thank You from AHRMM Health Care Supply Chain Leaders
The University of Kansas Health System
University Health - San Antonio
Be a Leader – Share your CMRP Story
Supply chain professionals like you keep our health systems running reliably. Share your CMRP certification story and inspire other health care supply chain professionals to advance their careers and organizations with CMRP certification!
 
MEET OUR MEMBERS
Adrienne Ainsworth
"The health care industry is in a period of unprecedented and rapid change, and AHRMM's role is more important than ever in the exchange of ideas, advocacy, and leadership in the pursuit of supply chain excellence that facilitates the very best care in the communities we serve."
Read More »
MEET OUR MEMBERS
Gary King
"AHRMM has been instrumental in my journey as a health care supply chain consultant. Its resources and network have transformed my perspective, showing me the profound impact health care supply chain has on patient care."
Read More »
MEET OUR MEMBERS
Mark Fawson
"AHRMM helps me bring value to my organization. Through collaboration with peers and advanced learning, I am able to challenge the status quo and improve on processes to elevate our team to a new level. It helps that my team is really amazing in their own right. AHRMM helps us add the cream and cherry on top."
Read More »
    Celebration Ideas for You and Your Team
Here's a list of activities and ideas to help celebrate and raise awareness for SC Week.
Purchase themed gifts from Jim Coleman Ltd. featuring the official logo
Reach out to vendors to support financially for celebration meals or giveaways
Invite your team to take part playing a word search
Use social media to highlight staff, team photos, appreciation or achievements - #SCWeek
Host an award ceremony to acknowledge dedication and show appreciation
Raise awareness with a networking event/presentation for your organization
Organize a professional development event for your team
Share your success stories from the past year
Workforce Tool: Driving a Resilient and Agile Supply Chain
Access Your Free Download
Actionable recommendations to help your organization attract, hire, develop, and retain your health care supply chain talent. Infographic created by the AHRMM Workforce Recruitment and Retention Task Force Group.
Access Now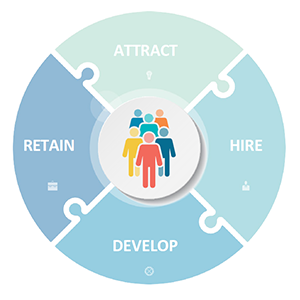 AHRMM Podcast: Power of Partnerships Series
Power of Partnerships: Part 1
Justin, Mike and Vicky applaud supply chain professionals and discuss this year's theme of The Power of Partnerships and what those partnerships look like now and how they may look in the near future.
Power of Partnerships: Part 2
Eric Tritch, Vice President Supply Chain & Support Services at the University of Chicago Medicine joins Justin, Mike and Vicky to discuss how UChicago Medicine has engaged with their local community in the areas of construction, business development and purchase services, and how they are modeling community engagement as the begin the development of their facility in NW Indiana.
Power of Partnerships: Part 3
Jeremy Strong, System Vice President, Supply Chain & Hospital Operations at Rush University System for Health joins Justin, Mike and Vicky to discuss Rush Health's innovative JumpHire program, the concept, success and subsequent second cohort that just started and their continued focus on community engagement and investment in local businesses and alignment with those business to meet Rush Health's operational priorities